Our Mission
Create the most memorable moments
Our goal is to create ever-lasting memories for you and your guests.
Immersive experiences
Your guests will leave reality at the door and immerse themselves into the world we have created for them.
Events around the world
We bring experience from hundreds of events in 19 countries.
A memorable show
A show so spectacular, you can see the excitement in your guests' eyes.
World-class talent
We deliver our selected talent to you, tailored to your needs.
Thank you for working with us to deliver every aspect of our event in such a professional way. It had such a great impact at extremely short notice from our side.
--
Duncan MacOwan
FESPA
Our Services
For a successful event, all pieces need to fit together. Whether you want us to make them fit or you want us to be part of a bigger project, we know what to do.
Project Management
From the first draft to the closing of the venue: We've got it covered.
Show & Entertainment
Our performers will entertain your crowd, day and night.
Venue Dressing
From small details to changing a venue completely, no problem.
Marketing & Content Creation
We know how to sell thousands of tickets for your event on social media alone.
Ticketing and access control
With our ticketing partner lumis.ai, we make ticketing and access control easy.
On site production
We make sure your event runs smoothly with top notch security, crowd management, and show production.
---
Where we work
Tailored for your event
Each event has individual needs: e.g. stage vs immersive show, local vs international talent. We help you produce the perfect solution.
World-class talents
Each musician, performer, actor and other talents we list are carefully selected and reviewed by our talent acquisition team.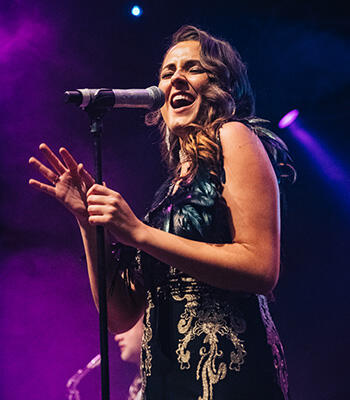 Live Bands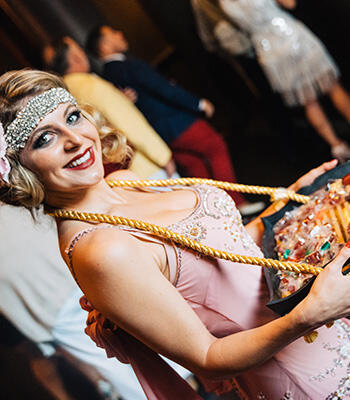 Welcome & Entrance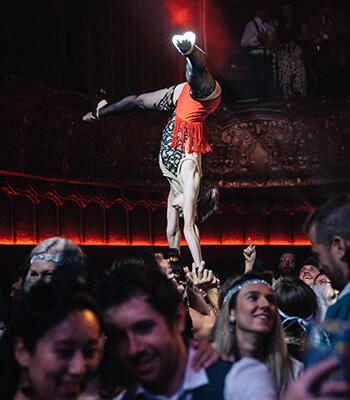 Mingling Performers
Are you an artist? - Apply now.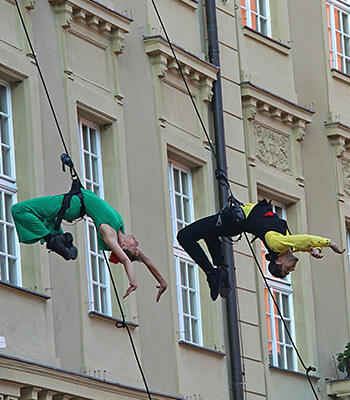 Vertical & Flying Dance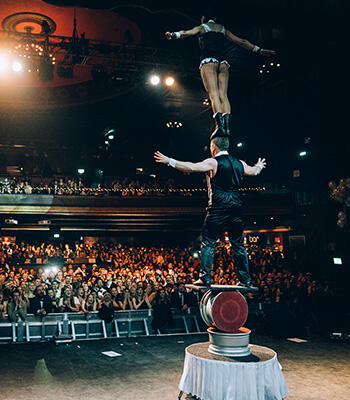 Mixed Acrobatic Duo
Fire Artists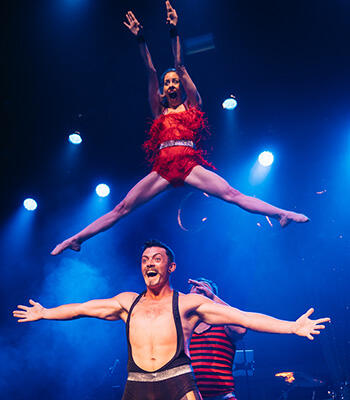 Mixed Acrobatic Trio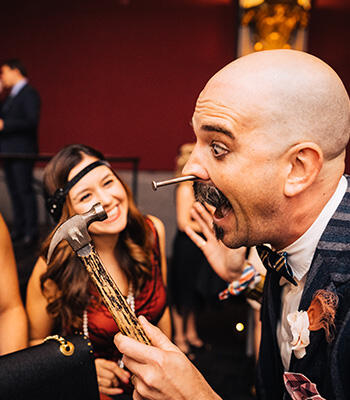 Actors & Freakshow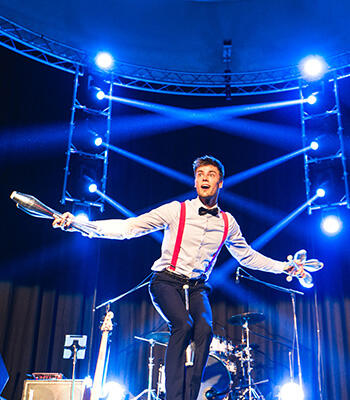 Juggler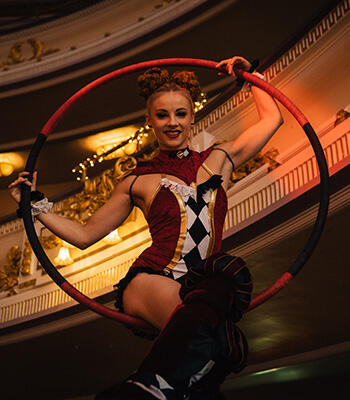 Lollipop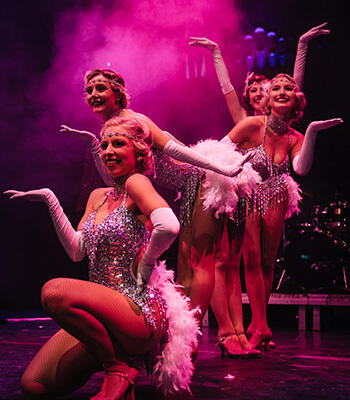 Dancers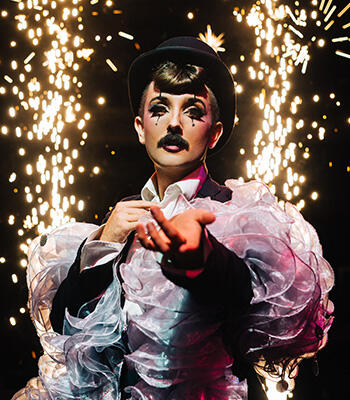 Ringmaster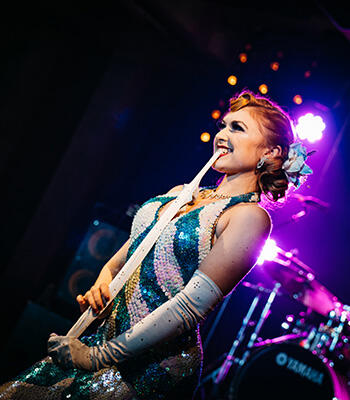 Burlesque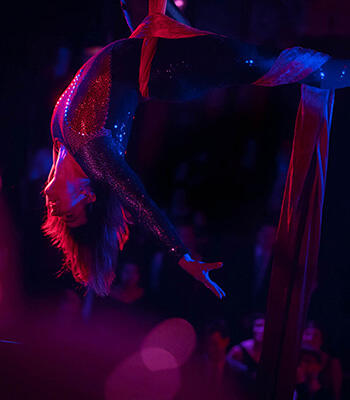 Aerial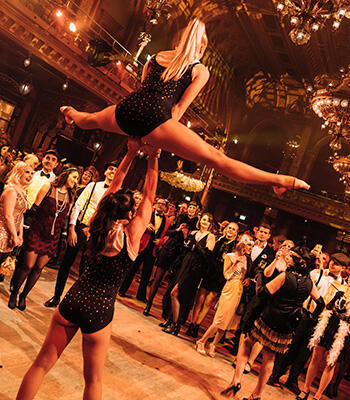 Acrobatic Duo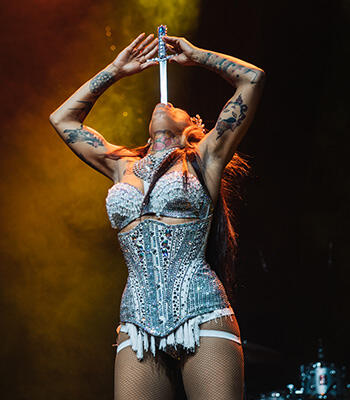 Sword Swallower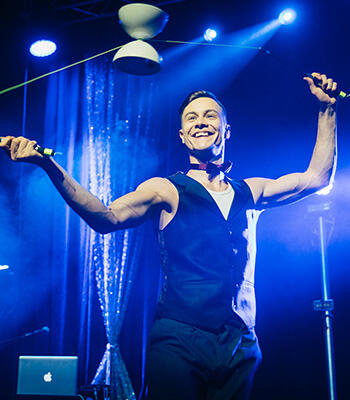 Diabolo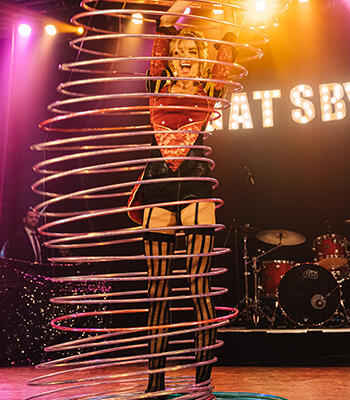 Hula Hoop
Memorable moments for your event
We are a team of young event professionals, who got addicted to creating magic for brands, clients, and most importantly the attendees. It is not only in the happiness of our guests, but also in the stories they tell even years after an event. Together, we aim to create this magic at every event - big or small - public or private.Few of us planned on working in the event industry, but we all got hooked for different reasons. As a result, we work with a diverse group of people and an even bigger network of partners. The passion for amazing events is what brings us together again and again.
About Party like Gatsby
With the event series Party like Gatsby, we take up the idea of a glamorous event in the Golden Twenties and turn it into reality.3 continents. 19 countries. More than 100.000 guests. Party like Gatsby combines show and party into a unique experience for you and your friends. Expect world-class circus performers, an extraordinary live-band and Gatsby's brilliant residence DJ. Joint on a mission to host you the most spectacular night out.
We have got you covered
We do not neglect the operational side. We are flexible, responsive, and responsible. Our services cover all important aspects of an event, including marketing, ticketing, licensing, photography, hiring, and many more. No need to look any further.Young, hungry, and determined. On our journey, we learned a lot and gained countless experiences. We have captured people's excitement on small events, filled bigger venues then we could ever dream, and we've never lost sight of the passion that drove us here. Most importantly, we never stopped having faith, persistence and passion.
Talk to an event expert
We'll get back to you in 2-3 business days.
Create memorable moments
Our goal is to make our guests the most extraordinary day of the year. What's your role in that?
Privacy Policy
Last updated: March 13, 2021We are responsible for your data and we take best possible care of your data. If you have any questions about your data or want to have any data deleted, please email:
info@sh-productions.comIf you have any questions about the privacy policy or note something that is missing, please email us first. We are happy to adjust and clarify anything we might have missed.In order to provide the most updated information on our partners and service providers, their contact information and privacy policies are linked in the text. You can directly access information on them by clicking on the links in the text.In the following paragraphs, we explain what data is collected and used on this website and all our services and platforms. If you have any questions about this or want your data deleted, please send us an email.Webpage
Our hosting provider is carrd.co. When browsing our website, you are downloading information from their servers. You can find carrd.co's privacy policy here.For analytics, we use Google Analytics. We anonymize IPs and only collect the minimal amount of data necessary. You can find their privacy policy here.When you contact us via the contact form or enter information in the sign up form, this information is processed by carrd.co and then stored by our email provider Gmail. By contacting us via the contact form, you agree to us contacting you for a response.We collect all of this data as it is in our justified interest to do so, as long as your personal interests or basic rights are not infringed.Legal requirements
We are required to process and transfer your data according to the law. Certain data needs to be stored for specific time periods, we might be required to cooperate with law enforcement, and we are required to ensure certain information rights. It goes without saying that we will adhere to the law and transfer and process your data as required.Social Media
We have pages on Facebook and Instagram. While we might be officially considered joint processors of your data with the platform provider, we have very little influence or insights into how Facebook or Instagram uses your data. When you sign up on these platforms, you have agreed to their privacy policy and their terms and conditions. These documents are the best place to find out how your data is used. You should expect cookies, tracking, targeted advertisement, and profiling when interacting with these platforms.Your rights
You have rights. As long as you don't abuse your rights (i.e. by sending an excessive amount of data requests), you can request any of the following by sending us an email for free:
- Know what data we have stored about you and have it corrected
- Delete your data
- Limit processing of your data
- Export your data in order to take it to another service
- Withdraw your consent to processing of your data
- Object to any processing of your data (as long as it is not required by law)
Imprint
Stay Home Productions Ltd
71-75 Shelton Street
Covent Garden
London
WC2H 9JQCompany Number: 12551791E-Mail: info@sh-productions.com
Disclaimer
Accountability for contentThe contents of our pages have been created with the utmost care. However, we cannot guarantee the contents' accuracy, completeness or topicality. According to statutory provisions, we are furthermore responsible for our own content on these web pages. In this context, please note that we are accordingly not obliged to monitor merely the transmitted or saved information of third parties, or investigate circumstances pointing to illegal activity. Our obligations to remove or block the use of information under generally applicable laws remain unaffected by this.Accountability for linksResponsibility for the content of external links (to web pages of third parties) lies solely with the operators of the linked pages. No violations were evident to us at the time of linking. Should any legal infringement become known to us, we will remove the respective link immediately.CopyrightOur web pages and their contents are subject to copyright law. Unless expressly permitted by law, every form of utilizing, reproducing or processing works subject to copyright protection on our web pages requires the prior consent of the respective owner of the rights. Individual reproductions of a work are allowed only for private use, so must not serve either directly or indirectly for earnings. Unauthorized utilization of copyrighted works is punishable.